What's behind the serious failures in Sefton's children's services?
The government sends in a commissioner, plus the rest of your weekly briefing
Dear readers — welcome to this week's briefing. Today we take a look at what's behind a series of failures by Sefton Council to protect vulnerable children, which has led to the appointment of a government commissioner to oversee the children's services department. Plus, we recommend a beautiful feature in the New York Times about Sonia Boyce, the winner of the top prize at the Venice Biennale 2022, whose artwork was inspired by a community project in Toxteth.
Our sad and hilarious weekend read about the decline of the Adelphi Hotel has turned out to be one of our most popular pieces ever, with dozens of tweets and ten new members joining up after reading it. It was the long-awaited Post debut for David Lloyd, who ran the Seven Streets site with our own Robin Brown, and we're hoping David will write more for this parish in the months ahead.

Why has the Adelphi become Liverpool's dirty secret?, by
@liverpoolpost
livpost.co.uk/p/why-has-the-…
Brilliant article, this. Insouciant owners & a 30 year-long failure of civic imagination. "Just do something, will ya!"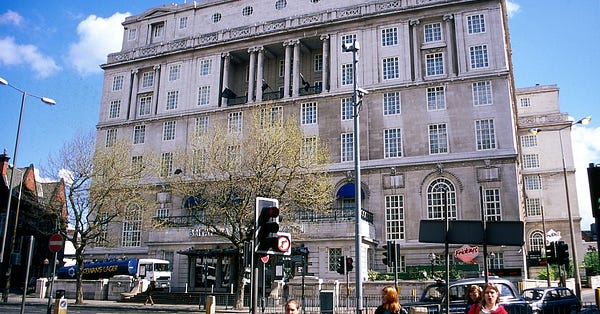 Why has the Adelphi become Liverpool's dirty secret?
It was once Liverpool's grandest hotel - but under the direction of current owners Britannia it's a pale shadow of its former self.
livpost.co.uk
And just to give you a chuckle, here's one of the piece's many highlights: 
There are actually two queues — one for people to get their electronic room key and a second for people who've come back down to reception because it doesn't work. Soon, I will form the start of queue number three: people who've returned to reception because their keycard doesn't work, had it run through the card reader, only to find that it still doesn't work and had to traipse back down to reception again.
---
☁️ This week's weather
---
The big story: What's behind the serious failures in Sefton's children's services?
Top line: The long-running problems with children's services at Sefton Council have led to a government commissioner being appointed to review the department. It's received four damning reports in three years, and the latest one from Ofsted says the "council and senior leaders have not demonstrated sufficient understanding of the scale and depth of the inadequacies". The commissioner's review will decide whether Sefton Council is capable of delivering improvements or whether the department should be taken out of its control.
The failings:
Children in care are not supported to make good progress at school, and targets represent low aspirations for children in care.

When there are private fostering arrangements, the checks are not always made to ensure that the placement is safe.

The response to children who have been sexually or criminally exploited is weak, and has not always reduced risk. 

For some children, there are no suitable care placements to move into, which leaves them in harmful situations for too long.
Context: Commissioners are appointed to oversee improvement in failing councils, and can intervene in the day-to-day running if they are dissatisfied with the rate of improvement. The appointment of four commissioners to Liverpool City Council was considered the first time Westminster had directly intervened in the day-to-day running of a large city council. Commissioners were also sent to Northampton in 2018, Rotherham in 2015 and Tower Hamlets in 2014.
The report says the failures are partly down to a sharp rise in referrals over the pandemic. In Sefton, 113 children in every 10,000 are in care, compared with the national average of 84 per 10,000. The more children who come into care in Sefton, the fewer resources are available. The report says the council has expanded its workforce to meet demand, but this hasn't translated into an improved service.
Financial pressures can also take their toll. The report notes the council has been relying on expensive agency staff to keep things going. A recent Guardian investigation revealed that private placements for children with more complex needs can cost local authorities up to £20,000 a week. Sefton's "overreliance" on the private sector has put the council in a more precarious position. Professor Eileen Munro, an expert in child welfare and a reader at the London School of Economics, says:
The 'normalisation of deviance' is a term for a well-known danger of organisations adapting to financial pressures by cutting corners and lowering standards and, gradually and unconsciously, these changes start to look normal. They can be shocked back into remembering why the higher standards were created by a tragedy such as a child's death but, fortunately, such terrible outcomes are rare so organisations can drift on for a long time providing a poor quality service.
Sefton Council said it was "hopeful" the commissioner would start to see improvements in the service. Damien Moore, Conservative MP for Southport, has called on council leader Ian Maher and cabinet member for children's social services Mhairi Doyle to resign. Doyle has not yet responded to Moore, but said she was looking forward to working with the commissioner to "tackle the many challenges we face".
---
Local news in brief
---
Home of the week
This pretty three-bedroom maisonette in West Kirby is on the market for £300,000. It has a large garden and it's just five minutes from the beach.
---
Our favourite reads
An interesting piece in The Economist looking at how Chinese money is pouring into British universities like the University of Liverpool, which has an affiliated campus near Shanghai, and Manchester, which has research links to nine Chinese universities. "Chinese influence is manageable on campuses as long as administrators and academics stand up for academic independence, says Steve Tsang of the China Institute at the School of Oriental and African Studies in London. But for universities that lack Oxford's deep pockets and global prestige, firmness may already have become too risky."
A beautiful essay about the bohemian painter Augustus John, who drew inspiration from the Wirral, in Art UK. Marjorie H Morgan writes that the first time she encountered his painting, Two Jamaican Girls, in Walker Art Gallery, adding: "John's art was most vibrant when portraying people from communities outside of established society. The Gypsy, Traveller and Jamaican works show a boldness — his portraits of the leading European personalities were much more than painting by numbers, but they were somewhat technical and therefore superficial, and for me, did not contain the heart, warmth and soul of the characters captured in his later Caribbean works."
We liked this profile of PJ Smith in The Face, a spoken-word performer from Toxteth who writes snapshots of Liverpool life. "I suppose the life events that shaped me would be living in a street where there were a lot of broken homes. Dads not around. Kids living with their nans because their mums were on heroin. That type of stuff. But I loved it. You could look back now and ask: ​'Was it rough?' I'd say no. When you're in something, you don't realise. I thought it was fucking great."
Sonia Boyce, the first black female artist to represent Britain at the Venice Biennale, won the top prize last month. In this New York Times feature, she discusses her artwork, Feeling Her Way, which was born out of conversations with a community artwork project in Toxteth. When she asked the Liverpool Black Sisters to name black British female singers they had grown up with, "it was very, very awkward," she said, "because it took literally about 10 minutes before anyone could think of anyone." Her artwork, mixed-media using gold glitter and audio, is a celebration of black female singers.
---
Post Picks
🕺 Dur-Dur Band, who helped define Somalia's 1980s disco scene, are performing in the Philharmonic Hall on Friday. They disbanded as civil war broke out in the '90s, and were relatively unknown in the west until the music label Analog Africa, looking for music that "swam against the current", found an unmarked pile of recordings in the archives of Radio Mogadishu in 2016. Book here.
🎞 FACT is showing Bird With The Crystal Plumage tonight, a murder-mystery film about a man who becomes obsessed with a woman after witnessing her being brutally attacked in an art gallery in Rome. Book here.
🖌 Convenience Gallery has a life drawing session on the third Tuesday of every month. Some materials are provided, and the bar and coffee shop will be serving drinks so you can stick around and talk about your artwork at the end. Book here
🗣 Wendy Mitchell, whose life story features in Suki Chan's Conscious exhibition, an exploration of memory loss, will be talking more about the exhibition and her own book over coffee and cake with Suki at the Bluecoat on Thursday afternoon. Book here.
🍝 a-tavola, the Italian deli and cooking school tucked away on Duke Street, host some great masterclasses in pasta making and wine tasting. This Sunday, you can learn how to make fresh ravioli. Book here.
🍞 As the Spanish writer Miguel de Cervantes Saavedra once said, "All sorrows are less with bread." On that note: we recommend trying Rough, the family bakery on Albert Dock. Everything is baked early in the morning, and chef Carlos, who comes from Buenos Aires, draws on South American influences in his creations. More here.
---
We loved this illustration by the artist collective the Singh Twins, shared to celebrate Liverpool's FA cup win against Chelsea on Saturday.
---
Letters from readers
Excellent issue from The Post ('How a blunder at Liverpool City Council cost taxpayers £5 million'). Have a read about how Liverpool Council are now having to pay £16 million because no one got in touch with their power supplier. Yes. Really. Donna
You've noted that there are huge cuts to staff planned ('Why has the Adelphi become Liverpool's dirty secret?'). You didn't mention that this is a unionised hotel — staff are members of RMT — and has been for some time; talking to Adelphi employees' reps — not just a few scattered overheard staff comments in passing — should have been seen as what it is: a basic and valuable step in finding out exactly what's going on. If you're concerned about the fate of the Adelphi, you need to be concerned about the people who work there and the people in the city it's in. Your readers certainly will be. Thanks again for this important piece, Kaz